Fostering Pets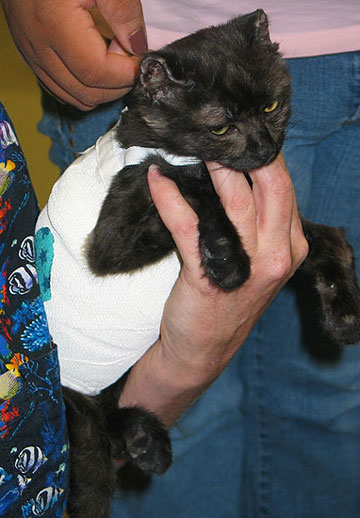 Adam. On Thursday, 6/21/07 late afternoon Forgotten Felines received a phone call from a woman saying that she had been given a kitten that had been set on fire. She wasn't certain she could properly care for the kitten and was calling FFSC for assistance. Forgotten Felines had helped this person one year prior to get 14 other cats fixed, so they had a pre-existing relationship with her. When she was questioned about what happened, it came out that the cat had been set on fire in a trap. Read Adam's amazing story and about his foster mom and his life thereafter.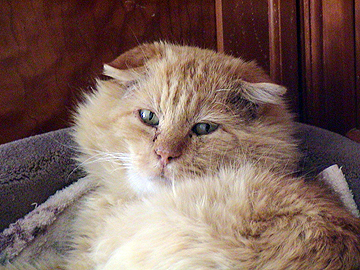 Guy. Some of the various meanings for this name are Warrior, Wood, Guide, Leader, all of which reflect his strength to survive on his own and ability to befriend others. Great suggestions we received for his hame: Lionhearted, Oscar, Gary Cooper, TC (traffic cop - when the ears move, it looks like he's waving people on), Rodney, Dude, Ryan (means King), Sunny
This gorgeous 'guy' was on his own for a very long time. He was pretty beat-up and had to scavenge for food and shelter. With the help of Forgotten Felines of Sonoma County, he was altered and had a once over to determine his overall health. Read his updated story...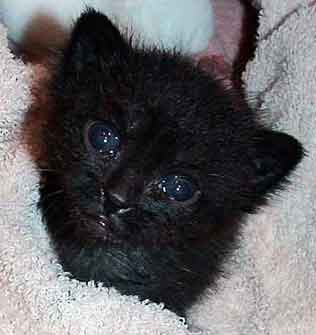 Ella's story... a rescued infant kitten. Ella was found on July 8, 2003. It was evening and the neighborhood children were playing on their bicycles. They heard a kitten crying and discovered her in a bucket in the ditch alongside the road. She was about 2 1/2 weeks old. Note:If you find one or more kittens alone, don't take them. Read this article so you'll know what to do. It is dangerous for them if you try to rescue them without knowing how to proceed.
And now, the rest of Ella's story... with photo's and some movie files (MPG) so you can get to know Ella. Baby Sucking on Bottle - (MPG - opens in new browser window)
To foster a baby animal, you may want to consider signing up with some of your local animal rescue agencies.
In Sonoma County...Forgotten Felines of Sonoma County. Also check with local area Shelters